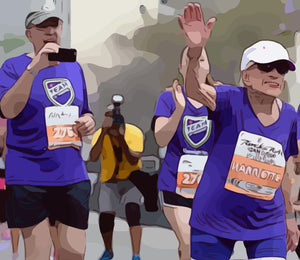 GUINNESS OLDEST MARATHONER ATTEMPT
Regular price $300.00 Sale
Want the Guinness Book Record "Oldest Person to Complete the Marathon"? 
Long-Life Marathon and a team of experts recruited specifically for the task will assist just one amazing runner who really has a shot at this. We know a number of great resources who will gladly assist you in making the longevity dream expounded upon in Run for Life come true.
We'll issue a refund if, after 30 days of due diligence during which I'm sure we'll find you're a wonderful nonagenarian runner, we nevertheless can't advise you to undertake an attempt. 
WHAT WILL IT TAKE?
The current, generally recognized record of 92 years and 93 days was set at the San Diego Rock 'n' Roll Marathon in 2015 by the late, great Harriett Thompson.
Clearly, a runner amazing enough to be within grasp of surpassing Harriett already has this Long-Life Marathon thing figured out, but ANYONE preparing for such an against-the-odds milestone has a big task ahead.
HOW WE WILL HELP
We can suggest form and run/walk techniques and advise you on anything else you need to get to the finish line. But clearly, you and your doctor have to be in charge of the "go/no-go" decision. 
We're particularly knowledgeable about how you might adapt what worked for other wondrous nonagenarian runners like the late great Gladys Burrill.
We'll refrain from pushing speed, although we're sure you can benefit from some of the "stay healthy" and "rest and recovery" practices of amazing high-speed super-masters like the late great Ed Whitlock, who clocked an amazing sub-4-hour marathon at 85.
THE BLING
Finishing with a smile for the history books is what this is all about. Whatever your time, it will be a world record. 

Beyond the "it takes a village" coaching to get you over the finish line, we're registered with Guinness with record applications pending and will handle the application and verification of your record.
Bottom line, we'll do whatever we can to gain you the recognition and support you deserve during the run-up to your record-breaking attempt.  
If you cross the finish line (there are no guarantees in something like this), we'll step back and lead the rest of the world in applause.