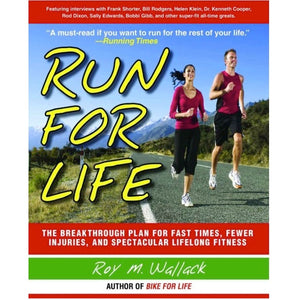 Run for Life: The Anti-Aging, Anti-Injury, Super-Fitness Plan to Keep You Running to 100
Regular price $14.21 Sale
The notion that you could finish a 10K on your 100th birthday might seem far-fetched. Not to author Roy Wallack, or to many of the 60-plus age-group runners I know and coach, or to anyone who watched Ed Whitlock run a 4-hour Marathon at age 80. 
But Roy Wallack has gone so far as to research an in-depth treatise on how to achieve this "forever young" fantasy, and I'd be remiss not to include it in the longevity products offered on this site. As Wallack describes it:
"Enter Run for Life, a blueprint for using running as the linchpin of a superfit longevity program. Using information from some of the world's most innovative coaches and trainers, reviews of the latest scientific studies, and in-depth, oral history interviews with some superfit pioneers of the sport, including Frank Shorter, Bill Rodgers, Rod Dixon, Dr. Kenneth Cooper, Bobbi Gibb, and others, it will show that genuine fitness and vigorous, exhilarating quality of life is not only possible at all ages, but also can be achieved in as little as 20 serious minutes a day. Run for Life is a paradigm-changer. It will give millions of Gen-X and baby-boomer runners an eye-opening, commonsense plan for staying in (or returning to) the sport they love—long after the common wisdom would have them switching to cycling, swimming, shuffleboard, or the rocking chair."

Wallack, Roy M.. Run for Life: The Anti-Aging, Anti-Injury, Super-Fitness Plan to Keep You Running to 100. Skyhorse Publishing. Kindle Edition.
Like everything else we recommend on this site, this book is as carefully chosen as the products with our brand on them and the methods we use in coaching athletes.
The book is worth the price of admission if only for detailing what Robert Forster, owner of the Phase IV clinic in Santa Monica, has called "Soft Running": short strides, forefoot strike, butt-kick heel lift, and rapid turnover.
As Wallack notes, "most good runners run this way, because it's actually the most efficient way to run."  
Definitely worth a read.