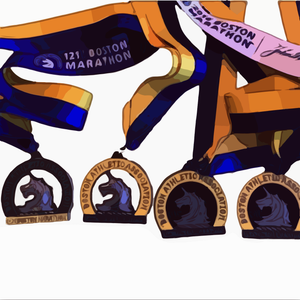 BQ COACHING 16-Week Plan
Regular price $300.00 Sale
We Will Coach You To Achieve Your Boston Qualifying Time
If you run the workouts we provide at the paces we specify, in our less-stress, more-gain plan that minimizes setbacks from aches and injuries, you should make your Boston Qualifying time. We'll tell you upfront how much of a stretch it will be.
Included in the 16-week training plan:
Initial assessment where we review your fitness and recent running & racing history as the basis for your BQ plan.
If a single BQ cycle might be insufficient, we'll tell you how much progress you're likely to make. We'll offer an immediate refund if you decide you don't wish to subscribe after all. 
Discussion of

 

best BQ venue up front and ongoing. Downhill? Flat? Close? Far but fast?
Customized training schedule

 

(built for you, around your schedule and preferred running locations) with detailed descriptions of each workout's paces, distance, and duration. 
Automatic GPS

 posting

 of your training log in your personal portal via GarminConnect, MapMyRun or Strava.
Two-way communication via training-log comments with

 

tuning

 

of online workout schedule and as needed. 
Special focus on preparatory races we'll suggest based on characteristics shared with your chosen BQ venue. Your performance in these races every four weeks drive adjustment of training paces and would be a great subject for monthly chat.  
Monthly phone call/check-in

 

initiated by

 

athlete.
Additional

 

access to Coach via email and text.  
Form analysis

 

(follow our simple instructions for taking a video of yourself running at race pace and send it to us) to achieve more efficient running form tuned for your chosen BQ race venue (a $100 value).
Runner-specific

 

stretching and strength training tips

 

to help you develop more efficient running techniques and avoid injury.
Cross training suggestions

 

focused on greater speed and strength with lower impact and stress.
Fueling and hydration recommendations for best training and racing.
If required, injury advice and

 

modification of training regiment for rapid recovery and most effective maintenance

 

of conditioning already attained.
Race tactics and in-your-ear coaching at your BQ race.
FEES

This program does not include registration fees for the preparatory races we'll have you run every 4 weeks to gauge your progress or for your BQ attempt itself. 
SESSION START DATES
After choosing likely BQ races clustered near each other in time, we'll work back 16 weeks to determine your start date.
Shorter sessions available at a prorated fee if the BQ race you like is coming too soon IF your recent race result makes success likely. Contact us to inquire.